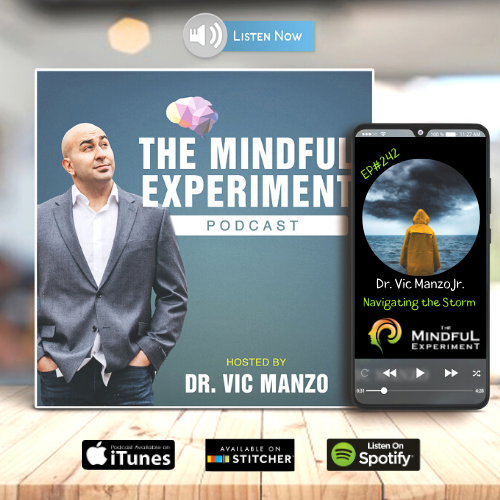 One thing that is a fact about life and nature taught us this so well is that, no matter what happens, no storm lasts forever...
But instead, storms come and go. Some last an hour, a day, a week, a month, or sometimes an entire year.
Regardless, it will never last forever.
In this podcast episode, I share with you 3 things that you can do to help calm the nervous system, calm the mind, and refocus your energy.
When we can refocus, it allows us to choose the reality and the lessons we want to gain from the situation.
When we don't, we get pulled into the chaos, and well, there is not much control you have in that department.
Tune in and let us know what you think!
-------------------------------------------------------------
Today's Sponsor:
-A unique offering at a great value
-With the New Year it's an excellent time for a new perspective
-A fresh perspective can change everything
-Astrology & Numerology can be excellent tools for self-awareness & self-discovery. Learn more about your or others psychological tendencies, personality traits & so much more.
-Natal (Birth Chart) Analysis is approximately 65 pages around your unique birth chart, very in-depth & easy to understand.
-25% Off with discount code: Mindful
www.TrulyDivine.com
-Relationship analysis is an excellent tool for revealing how you interact with another individual, & how to overcome challenges in your relationships.
---------------------------------------------------------------
Get Connected with Dr. Vic
Facebook: www.facebook.com/DrVicManzo
Instagram: www.Instagram.com/DrVicManzo
LinkedIn: www.LinkedIn.com/in/DrManzo
Parler: www.parler.com/profile/DrVicManzo
YouTube: Bit.Ly/38QULv91
Want to Master Life?
https://empower-your-reality.mykajabi.com/life-mastery
Download the first 3 Chapters to Dr. Vic's New Book for FREE
https://empower-your-reality.mykajabi.com/3-chapters-lead-generation-awitd
Looking for Coaching?
https://www.empoweryourreality.com/one-on-one-coaching
Email
DrVic@EmpowerYourReality.com