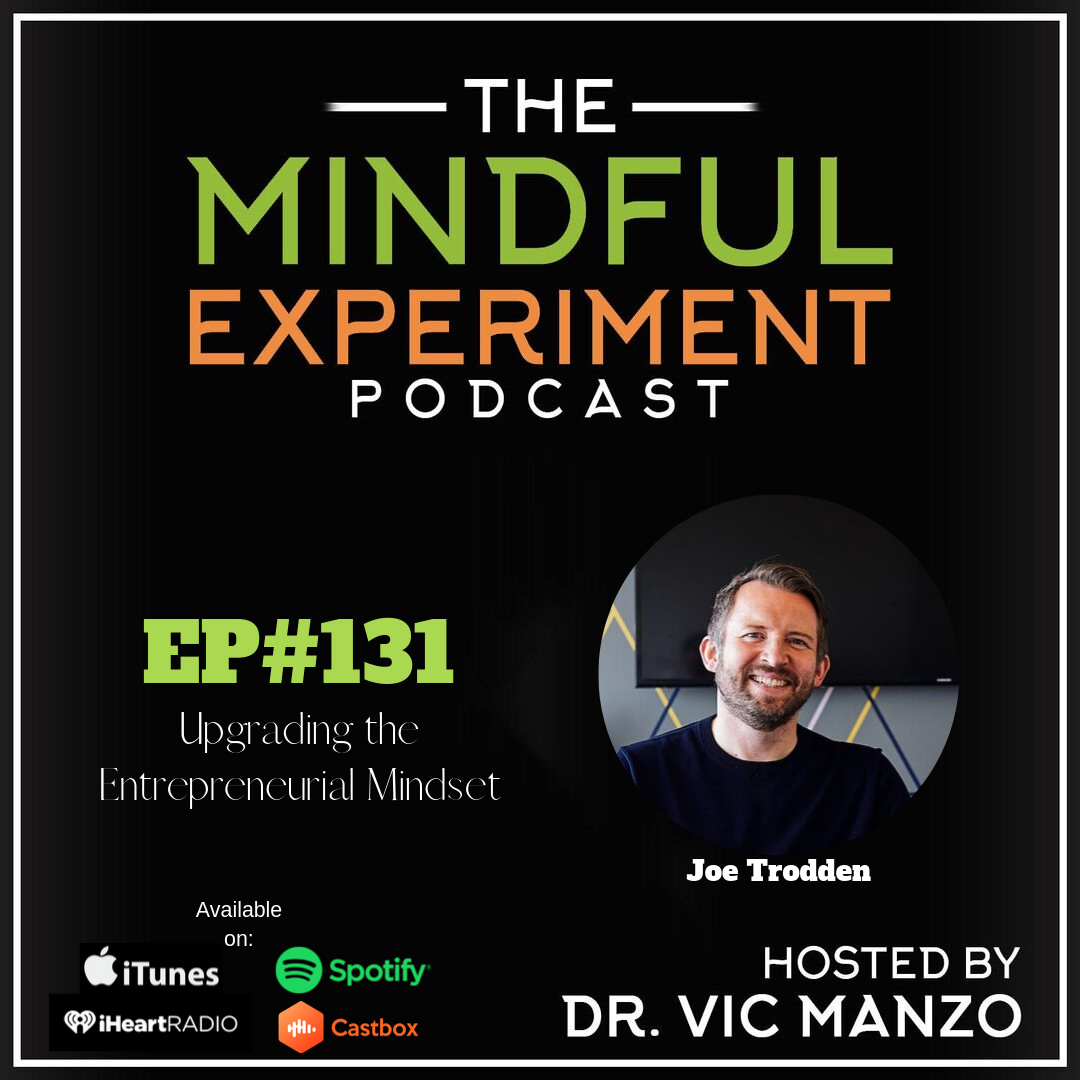 Joe has been working in the entrepreneurial mindset space for the last five years, working with hundreds of entrepreneurs at every stage when he was a coach at the Entrepreneurial Spark Global Accelerator. 
Leaving there to set up his own specialist business, Joe works specifically in the post-start-up/pre-scale up niche, a place where entrepreneurs often fight so hard to get to, but then struggle to find their next level. The right strategy at that point is essential, but the real answer to leveling up lies in upgrading their mindset, which is what Joe enables people to do. 
His mantra is that it's not about 'how can it be done', it's about 'how can you do it'.
Website: www.mindsetexperts.co.uk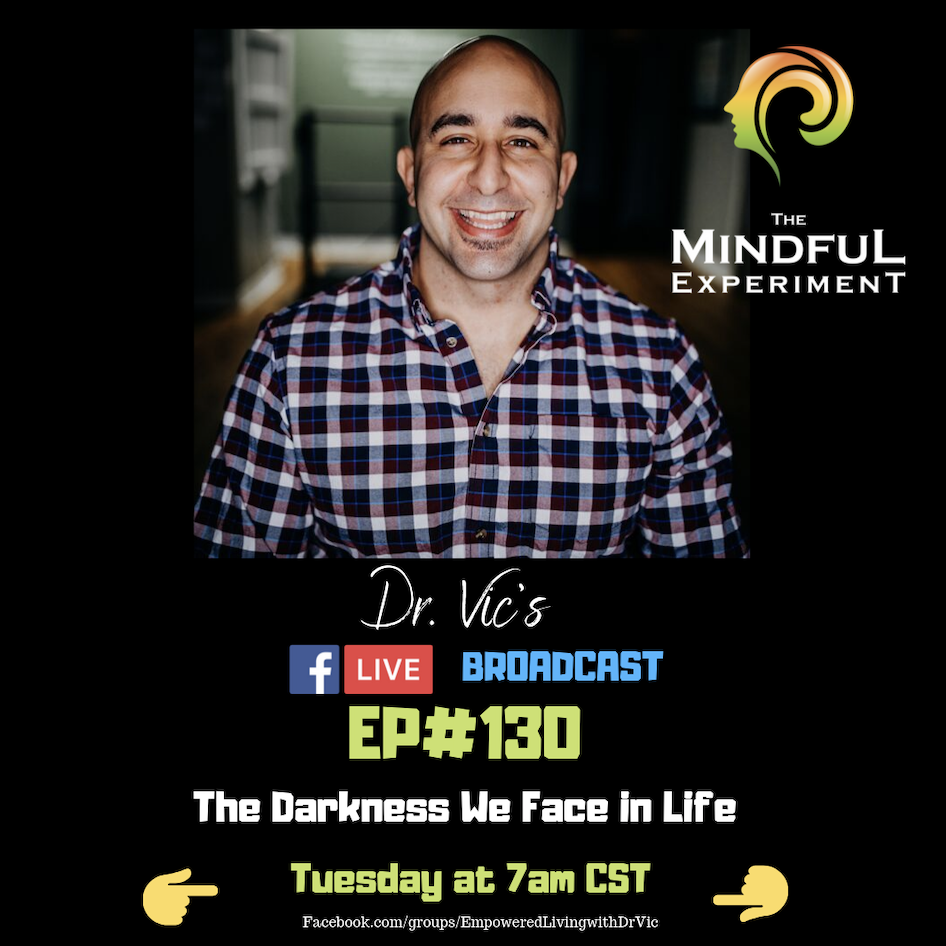 We all face the darkness in life, one way or another. It is a rite of passage.
Most of us, avoid the darkness. We shy away from it or utilize many different resources to avoid it in some shape, way or form.
But, what if the Darkness was our best friend?
What if the darkness had a purpose?
What if, on the other side of the darkness, is the sunny days you are seeking?
What if, on the other side of the darkness, your dreams, goals, vision and all the beauty life has to offer is there?
Join me as I discuss the release of my new book and share a few messages from the book and how the darkness may not be as scary as we once thought.
To Grab a FREE COPY of my NEW BOOK:
https://bit.ly/2kt8RPf
Join Dr. Vic's Private FB Group:
https://www.facebook.com/groups/EmpoweredLivingwithDrVic/
Connect with me on Social Media:
Facebook: @DrVicManzo
Instagram: @DrVicManzo
Twitter: @DrVic21
SnapChat: @DrVic21
Website: www.EmpowerYourReality.com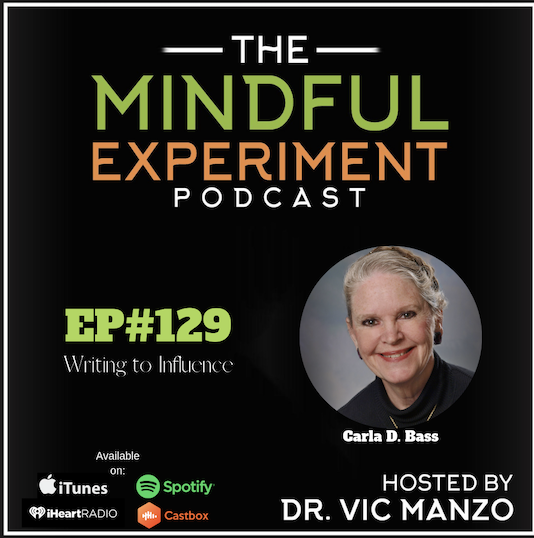 Understanding the power and simplicity of how writing can truly influence individuals and expand your message to the masses.  Tune in below as I had the pleasure of interviewing retired Air Force Colonel, Carla D. Bass.
Who is Carla D. Bass?
Carla D. Bass, Colonel, Air Force (Ret), served 30 years active duty and another 12 with a federal agency, working directly with general officers and civilian equivalents, ambassadors, congressional delegations, and foreign dignitaries. She wrote letters for executive-level signature; reports for senior military leaders; hundreds of personnel appraisals; nominations for awards, congressional fellowships, and other competitive packages. She composed elevator speeches, talking points, and executive correspondence, many of which were sent to Congress and the White House. In all instances, each word and every second of the audience's time counted. Carla developed her writing methodology and taught thousands of Air Force personnel for 15 years. Carla served in locations to include Bulgaria, Germany, Korea, Hawaii, and Washington, D.C. She lives with her husband, Lynn Reeves, in the Virginia countryside.
How to Connect with Carla?
Facebook: https://www.facebook.com/WritetoInfluence.01/
Twitter: https://twitter.com/CarlaDBassWrite
LinkedIn: https://www.linkedin.com/in/carladbass/
Website: https://writetoinfluence.net
Grab a Copy of Her Book: https://amzn.to/2I2kODR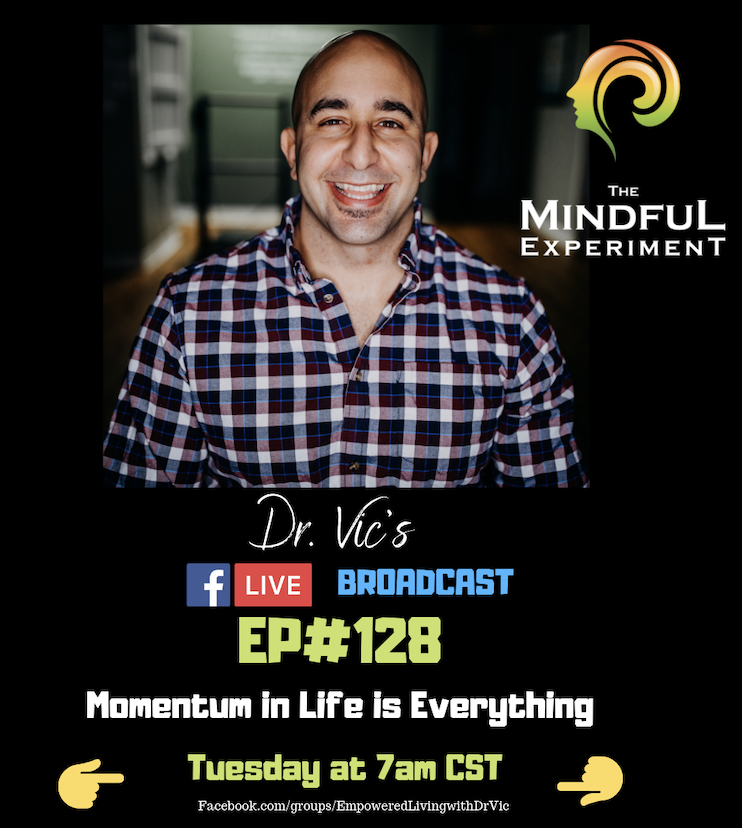 In this episode, I share the power of momentum and why it is the catalyst for all things in life.
I share concepts on who you truly are, share principles about how the Universe works and share methods of what you can do to create momentum within your life to CREATE ANYTHING you desire...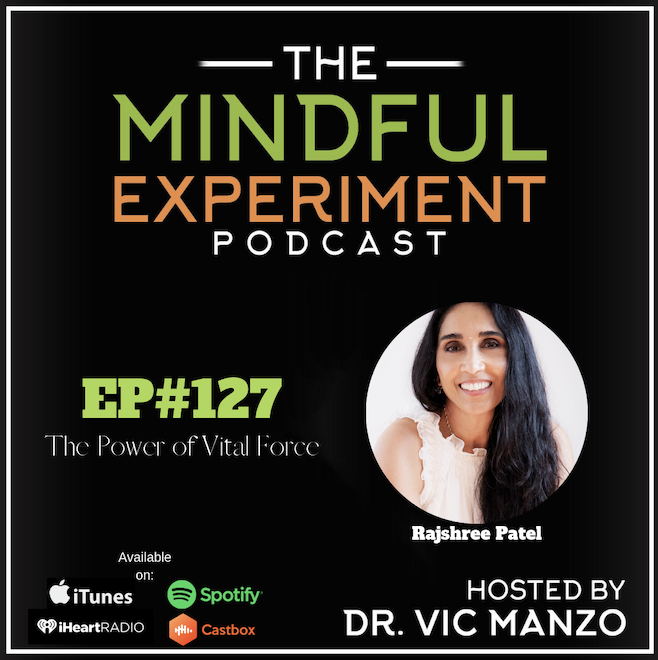 Who is Rajshree Patel?
Rajshree Patel is mind and meditation expert and an international self-awareness coach, teacher, and speaker. She has taught hundreds of thousands of people in more than 35 countries the power of meditation, mindfulness, breath work, and other ancient tools for accessing the innate source of energy, creativity, and fulfillment within. 
Born in Uganda and raised between rural India and New York City, Patel was working as a prosecutor for the U.S. Attorney's office and the Los Angeles District Attorney's office when a chance meeting with the renowned spiritual master Sri Sri Ravi Shankar changed her life. She left the practice of criminal law to explore the power of universal laws. Since then, over the last three decades she has established more than 600 meditation centers and trained thousands of instructors with the Art of Living, helping expand the self-development and humanitarian organization into a global nonprofit.
Through her unique blend of intuition, humor, and ancient techniques, Patel has guided government leaders, families, Oscar-winning filmmakers, Fortune 500 executives, and individuals from all walks of life in understanding how the mind works, how to let go of stress, and how to be more resilient and fulfilled in their personal and professional lives. She has given talks and led programs at organizations including Amazon, Facebook, Microsoft, NBC Universal, IBM, LinkedIn, Gap, WMC, The World Bank, Shell Oil, Morgan Stanley, Harvard University, IIT, the United Nations, UNESCO, and more.
How to Connect with Rajshree?
Facebook: https://www.facebook.com/byrajshree
Twitter: https://twitter.com/byrajshree
Instagram: https://www.instagram.com/byrajshree/
Pre-Order Her New Book: https://www.rajshreepatel.com/#special-offer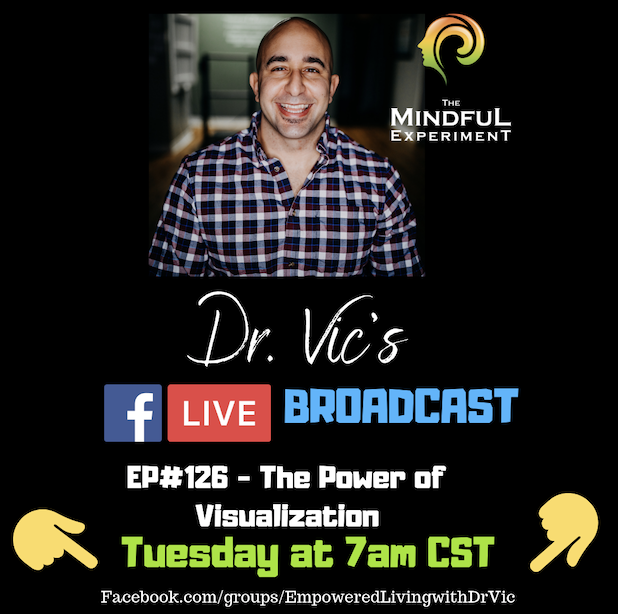 Sages, Mystics and Spiritual Gurus have been saying for thousands of years how powerful the tool of visualization is.
It has been said, "If you see it within the mind's eye, you will experience it within your reality."
From a neuroscience perspective, the brain cannot tell the difference of what is the reality and what is made up in the mind.
When you start to understand this principle, you can transform your life and so much more.
Tune in to the video and let me know what you think.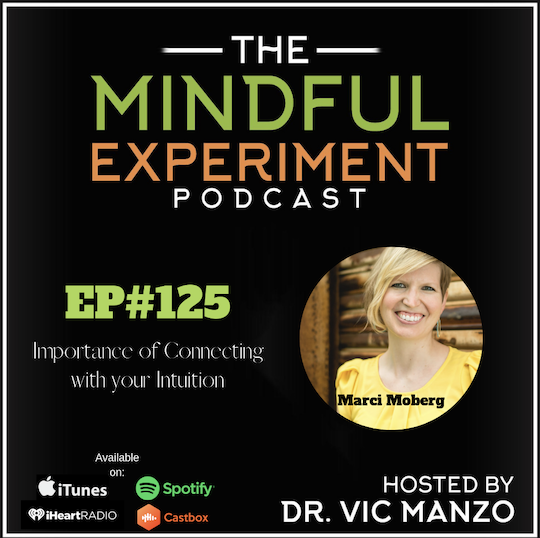 WHO IS MARCI MOBERG?
Marci Moberg is an intuitive coach and healer with a passion for reconnecting sensitive souls to their forgotten intuitive nature and the unseen guiding realms of life.  She empowers big-hearted empathic people to stand in their power, trust their intuition, and live their truth. Marci's work includes mentoring individuals and groups to develop their intuition, to navigate life transitions with purpose, create authentic relationships, and realize their true potential.  She is the teacher of Intuition 101: the life-changing course on practical intuition development. Marci has been featured on the Huffington Post, Reader's Digest, Bustle and is a contributor on ThriveGlobal.com and LifeHack.org. Marci has been interviewed for her expertise on News4, WUSA9 and Newschannel 8 in Washington, D.C and many podcasts.
Prior to this, Marci spent 9 years traveling the world as a conflict resolution expert for USAID. While there, she completed her Master's Degree at George Mason University and doctoral coursework in Conflict Analysis and Resolution fulfilling her desire to more deeply understand the human mind and behavior. Despite achieving much of the "American dream," Marci felt deeply unfulfilled and developed faced several health crises.  This sparked her spiritual journey that led her to leave an unhealthy marriage, reclaim her intuitive gifts, and discover her purpose.. After years of inner healing, she worked up the courage to resign from her tenured position to follow her dream of working full time to transform people's lives. Today Marci has reached thousands of people through consultations, weekly classes, workshops, trainings, and speaking engagements. 
HOW TO CONNECT WITH MARCI?
Website: www.MarciMoberg.com
Instagram: @MarciMoberg
Facebook: www.facebook.com/joywithmarci
Do you ever wonder why, when you buy a new car, you start to notice many other people driving the same car?
Or how about when a woman becomes pregnant, all of a sudden, she starts to notice more and more women who are pregnant?
Is it just awareness or is it something else?
Tune in as I share what is this filter system the brain has and how you can actually program it for anything that you desire to experience within your life.
Who is David Gandelman?
David Gandelman is the founder of www.DavidGandelman.com, co-host of the Energy Matters Podcast, host of the Grounded Sleep Podcast, and teaches meditation at Cornell University among many other well-known venues. When David was 16 he had a radical shift in consciousness and began meditating deeply and studying a variety of meditative traditions. You don't have to be in the Himalayas to find peace of mind, but it doesn't hurt to learn from someone who has. With over 10 years of teaching experience, David has cultivated a program that connects energetic experience, ancient wisdom traditions, and humor, to create a safe atmosphere for people interested in developing their natural spiritual abilities and tapping into their creative potential through meditation.
How to Connect with David?
Website: www.DavidGandelman.com
Facebook: https://www.facebook.com/groundedinmind/
Instagram: https://www.instagram.com/david_gandelman/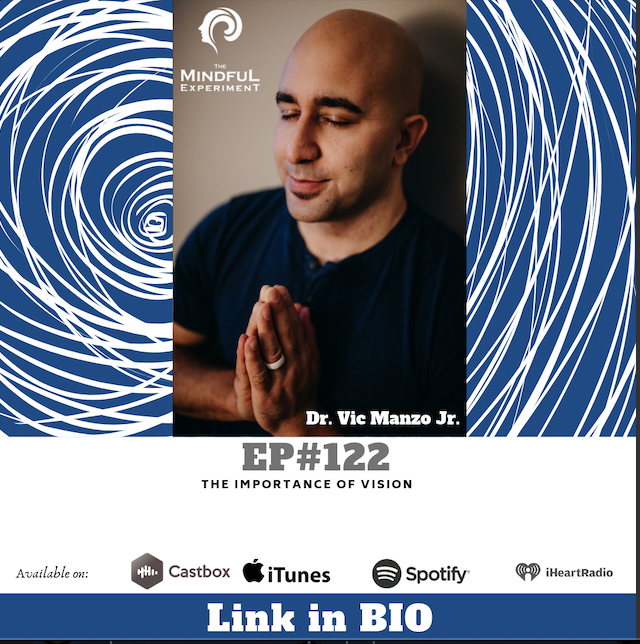 In this episode, I share with you the importance of having a vision. Why vision should be the most essential thing to focus on aligning yourself or as some say, manifesting the life you desire to experience.
I will be sharing personal stories with vision, how I broke my addiction to being a goal-a-holic and so much more.
Tune in to hear the whole episode as I go deep into this concept.