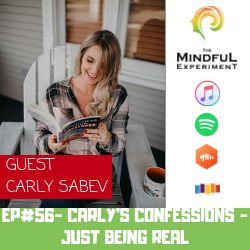 In this episode, I had the pleasure of interviewing Carly from Carly's Confessions.  Carly is all about keeping it real and just being 100%.  I have gotten to know her over the past 6-8 months and she is as authentic as it comes.  No filter, just 100% Carly.  Tune in for more as she shares her story of how she wanted more out of life than just selling batteries and how her side hustle slowly developed into her main hustle to where she can work when she wants and then, spend tons of time with her amazing, sweet daughter and family!
More about Carly...
One Big-Hearted Goofy Mama who's on a mission to inspire others who don't feel fulfilled in their own lives. 
A Couple questions asked in Podcast...
What is a book that has transformed your life?
This is the hardest question for me! But I have to say... The Compound Effect by Darren Hardy!
What is a message you would tell your 10 year younger self from all that you have learned?
You are SO deserving of LOVE. Nothing is impossible. Be stubborn about your vision, but flexible with your methods.
How to Connect
Instagram: @carlys_confessions
Facebook: https://www.facebook.com/carlysconfessions/
Linktree: https://linktr.ee/carlys_confessions
Get Connected with Dr. Vic
Facebook: www.facebook.com/DrVicManzo
Instagram: www.Instagram.com/DrVicManzo
LinkedIn: www.LinkedIn.com/in/DrManzo
YouTube: Bit.Ly/38QULv91
Purchase a Copy of Dr. Vic's Book at a Discount
Hire Dr. Vic as Your Mentor/Coach
Email
DrVic@EmpowerYourReality.com