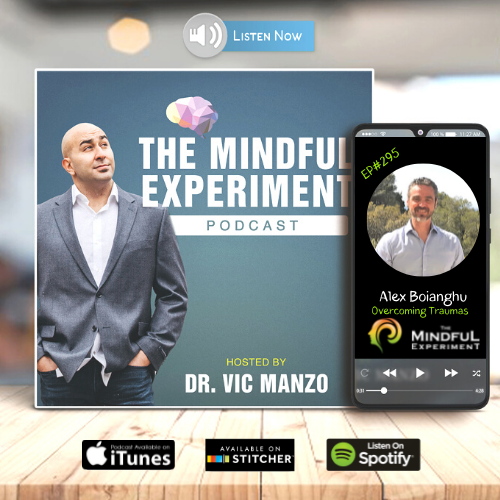 In this episode, I had the pleasure of interviewing Alex Boianghu.
We had a great convo as he discusses how to overcome trauma, find your freedom, and truly understand the journey to achieving just that and much more...
Who is Alex Boianghu?
Alex Boianghu is a dedicated and gifted therapist with over 30 years of study and practice. He uses an integrative approach to therapy, emphasizing psycho-spiritual growth grounded in somatic therapy's focus on the unity of body and mind.
Alex is trained in EMDR, a technique used to help people process and resolve trauma successfully. He is also a gifted couple's therapist, assisting the partners to reach deep levels of awareness and compassion. With compassion and discernment, Alex guides and models how to positively harness the psycho-dynamic energies we all possess to rediscover our common and innate holistic nature.
How to Connect?
Website: https://journeytowholeness.health/
-------------------------------------------
Connect with Dr. Vic...
Check out my website: www.EmpowerYourReality.com
Facebook: www.Facebook.com/drvicmanzo
Instagram: www.Instagram.com/drvicmanzo
LinkedIn: www.LinkedIn.com/in/drmanzo
Check out my books: https://amzn.to/3gzr9XT
About Dr. Vic...
I'm Dr. Vic Manzo Jr., a Pediatric/Family Wellness Chiropractor, Holistic Practitioner, Transformational Mindset Coach, Influential Author, Inspirational Speaker, and the host and creator of The Mindful Experiment Podcast.
I help coach, mentor, and consult entrepreneurs and chiropractors to live their best version of themselves.  We know life is limited so how can we gain the most experiences out of life.  I help with focusing on one's mindset and how the mind has been programmed over time to break the chains that have been created and allow for you to experience the freedom that you desire.  It truly is all about Empowering Your Reality.  I do this through one-on-one coaching and online classes.
Check out my socials and if interesting in coaching or one of my online classes, send me a DM or email me at DrVic@EmpowerYourReality.com.