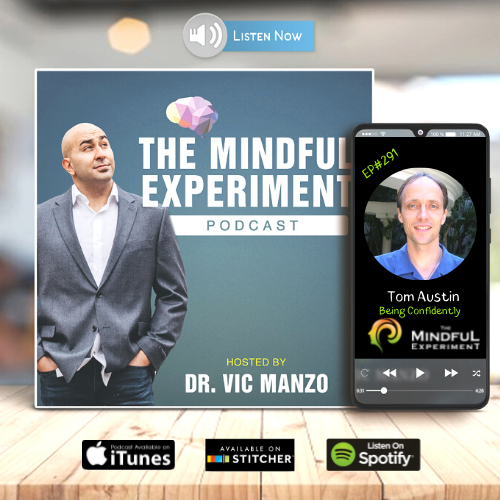 In this week's interview, we had the pleasure of talking with Tom Austin from Confidently.
We discussed his story and his experiences with his time at And1 as he was the co-founder of this brand.
I remember sharing some of the stories with him as I was a kid growing up and using the brand for shoes, shorts, and even a couple of their trash-talking shirts.
He shares stories and we discuss things like Michael Jordan and others who used trash-talking to level up their game and so much more.
Tune in below!
Who is Tom Austin?
Tom is a Developmental Psychologist and was a co-founder of AND1, a basketball brand that grew famous for its trash-talk T-shirts and became a cultural movement in the late 1990s and early 2000s with professional players tattooing the logo on their bodies. Netflix has a documentary about this movement coming out in early 2021.  
Tom is the CEO of the mental fitness platform: Confidently.
Confidently offers a framework and science-backed tools via multiple mobile and web apps. These products aim to help users live their best lives through easy tools for assessing the science of self-development. Confidently's framework has been built by experts who have coached Olympians, professional and collegiate athletic teams, and business leaders for decades, and established lines of research in performance psychology, cognitive-behavioral psychology, and positive psychology. Find it online at GetConfidently.com
How to Connect with Tom?
Website: www.GetConfidently.com
LinkedIn: https://www.linkedin.com/in/tomaustin/
Facebook: https://www.facebook.com/getconfidently
-------------------------------------------
Connect with Dr. Vic...
Check out my website: www.EmpowerYourReality.com
Facebook: www.Facebook.com/drvicmanzo
Instagram: www.Instagram.com/drvicmanzo
LinkedIn: www.LinkedIn.com/in/drmanzo
Check out my books: https://amzn.to/3gzr9XT
About Dr. Vic...
I'm Dr. Vic Manzo Jr., a Pediatric/Family Wellness Chiropractor, Holistic Practitioner, Transformational Mindset Coach, Influential Author, Inspirational Speaker, and the host and creator of The Mindful Experiment Podcast.
I help coach, mentor, and consult entrepreneurs and chiropractors to live their best version of themselves.  We know life is limited so how can we gain the most experiences out of life.  I help with focusing on one's mindset and how the mind has been programmed overtime to break the chains that have been created and allow for you to experience the freedom that you desire.  It truly is all about Empowering Your Reality.  I do this through one-on-one coaching and online classes.
Check out my socials and if interesting in coaching or one of my online classes, send me a DM or email me at DrVic@EmpowerYourReality.com.