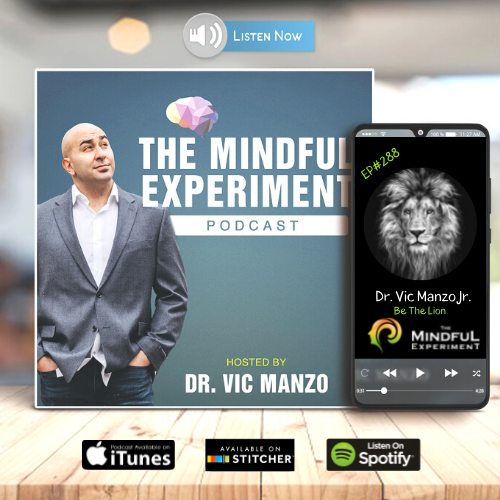 In this episode, I talk about the aspect of being the lion.  
I will answer questions such as:
What does it mean to be a lion?
What does a lion represent?
What strengths does a lion have?
How is the lion the king of the jungle?
How is the lion the most focused animal out of all animals in the kingdom?
Too many times, in the past few years, I have heard many people in personal development and self-help talk about being a lion, but what does that look like?
Too many times as humans and in business, we want to be a jaguar.
If you don't know how a jaguar lives, check out the episode.
Let us know what you think and if you find this inspirational, pay it forward and share with someone you know that could benefit.
Lastly, if this is your first time tuning in, subscribe to the podcast so you never have to miss another episode as we release 2 episodes per week!
----------------------------------------------------------------
Athletic Green's Special Offer to The Mindful Experiment Listeners
To take advantage of the special offer they are having at Athletic Greens, click on the link below to get one year's worth of Vitamin D with your first order:
www.AthleticGreens.com/mindful
----------------------------------------------------------------
Connect with Dr. Vic...
Check out my website: www.EmpowerYourReality.com
Facebook: www.Facebook.com/drvicmanzo
Instagram: www.Instagram.com/drvicmanzo
LinkedIn: www.LinkedIn.com/in/drmanzo
Check out my books: https://amzn.to/3gzr9XT
Chat with Dr. Vic on Coaching: https://www.empoweryourreality.com/coaching
About Dr. Vic...
I'm Dr. Vic Manzo Jr., a Pediatric/Family Wellness Chiropractor, Holistic Practitioner, Transformational Mindset Coach, Influential Author, Inspirational Speaker, and the host and creator of The Mindful Experiment Podcast.
I help coach, mentor, and consult entrepreneurs and chiropractors to live their best version of themselves.  We know life is limited so how can we gain the most experiences out of life.  I help with focusing on one's mindset and how the mind has been programmed overtime to break the chains that have been created and allow for you to experience the freedom that you desire.  It truly is all about Empowering Your Reality.  I do this through one-on-one coaching and online classes.
Check out my socials and if interesting in coaching or one of my online classes, send me a DM or email me at DrVic@EmpowerYourReality.com.