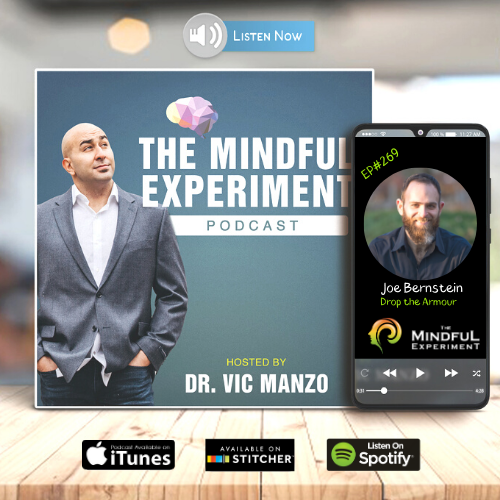 In this episode, I had the pleasure of interviewing Joe Bernstein.  
This episode was raw, real, and just straightforward.
I appreciated having Joe on the show and sharing some space for all of the listeners.
I know for a fact you will gain some insights to help you level up in your own life from what Joe and I were discussing in this episode.
Tune in below and let us know what you think...
Who is Joe Bernstein?
Joe Bernstein Founded Drop the Armor Wellness because he is on a mission to help other men feel the love and freedom that he learned to cultivate when his life fell apart in 2013. After learning to thrive romantically in response to divorce, losing 160 lbs without diets, and leaving his 1st career to build a mission-focused business, he became LIT UP to help other men do the same.
His clients are often successful business owners, executives in tech, top individual performers, leaders, creatives, entrepreneurs, or anyone who wants a Lit Up Life. They are big-hearted men that often feel stuck in their heads, stuck in their careers, and desiring more social or romantic connections. Joe helps them to let go of overthinking and using stress as a motivator, to live a life rooted in a clear head, an open heart, and solid guts.
He also leads transformational men's initiations in the Mankind Project and is involved in Showing Up for Racial Justice DC Chapter Healing Team.
How to Connect with Joe?
----------------------------------------------------------------
Get Connected with Dr. Vic
Facebook: www.facebook.com/DrVicManzo
Instagram: www.Instagram.com/DrVicManzo
LinkedIn: www.LinkedIn.com/in/DrManzo
Discord App: https://discord.gg/7fgACzdNAd
YouTube: Bit.Ly/38QULv91
Want to Master Life?
https://empower-your-reality.mykajabi.com/life-mastery
Download the first 3 Chapters to Dr. Vic's New Book for FREE
https://empower-your-reality.mykajabi.com/3-chapters-lead-generation-awitd
Looking for Coaching?
https://www.empoweryourreality.com/one-on-one-coaching
Email