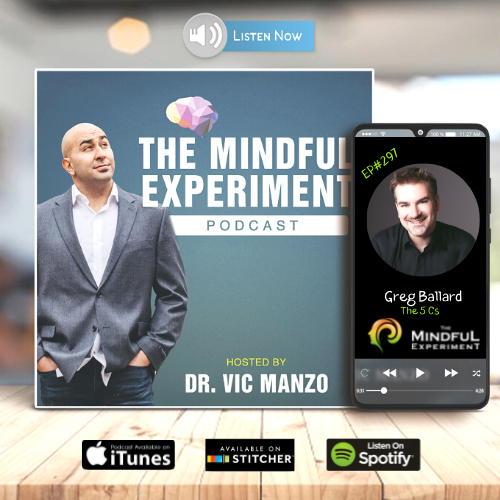 In this interview, I had the pleasure of interviewing Greg Ballard.
We dove deep into the Five C concept that he teaches and truly discussed methods and ways you can level up in your life.
Greg truly breaks down his systematic way of how he views things and helps his clients and so much more.
Hit play and make sure you take notes as Greg drops some nuggets of wisdom!
Who is Greg Ballard?
Greg Ballard is the founder and CEO of Five C Consulting, a boutique firm based in Washington, D.C. Metro.  His company works with a diverse set of clients ranging from mid-size tech companies, large government agencies, military, and non-profits to radically improve strategic people investments and organizational performance. 
With over 25+ years of experience, Greg has developed extensive experience in management and leadership development through start-up, corporate, entrepreneurial, and faith-based enterprises.  In prior roles, Greg has led and managed business units of 300+ and has personally mentored over 225 leaders. 
Over the past four years, Greg has actively worked with CEOs, operational executives, mid-level managers, and small business owners to improve their mindset, business habits, and overall approach to management and leadership.
How to Connect with Greg?
Website: five.consulting.com
Instagram: www.Instagram.com/Greg.Ballard
LinkedIn: www.linkedin.com/in/gwballard
Facebook: www.facebook.com/fiveconsulting
----------------------------------
Connect with Dr. Vic...
Check out my website: www.EmpowerYourReality.com
Facebook: www.Facebook.com/drvicmanzo
Instagram: www.Instagram.com/drvicmanzo
LinkedIn: www.LinkedIn.com/in/drmanzo
Check out my books: https://amzn.to/3gzr9XT
About Dr. Vic...
I'm Dr. Vic Manzo Jr., a Pediatric/Family Wellness Chiropractor, Holistic Practitioner, Transformational Mindset Coach, Influential Author, Inspirational Speaker, and the host and creator of The Mindful Experiment Podcast.
I help coach, mentor, and consult entrepreneurs and chiropractors to live their best version of themselves.  We know life is limited so how can we gain the most experiences out of life.  I help with focusing on one's mindset and how the mind has been programmed over time to break the chains that have been created and allow for you to experience the freedom that you desire.  It truly is all about Empowering Your Reality.  I do this through one-on-one coaching and online classes.
Check out my socials and if interesting in coaching or one of my online classes, send me a DM or email me at DrVic@EmpowerYourReality.com.