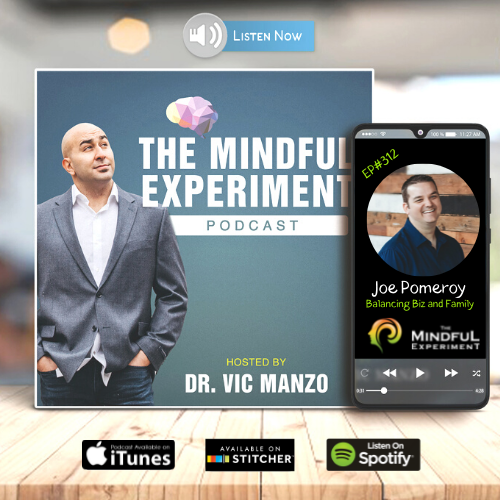 In this episode, I had the pleasure of interviewing Joe Pomeroy.
Joe is on a mission to helping dads take business skills and applying them to their family life so they can be the dad and husband they dreamed of.
We discuss the challenges and mistakes dads and business owners make when it comes to not keeping the balance of family and business.
He will share tips and tricks on what he learned through his journey to achieve this balance and why he is so passionate about helping other dads do the exact same thing.
Tune in below and share your thoughts in the comments!
Who is Joe Pomeroy?
Joe Pomeroy knows how to translate business principles into family success.
Joe gained a deep knowledge of business while helping build an 8-figure company and earning his MBA. More importantly, Joe discovered how to utilize those hard-earned skills to save his marriage and his family.
He went from his wife walking out the door, to having a confident, committed, and connected relationship, and now he is committed to helping other dads and husbands learn how to use those principles to be more confident in their roles.
As a bestselling author and Family Leadership Coach, Joe helps business-minded men discover the new way to become the husbands and dads they once promised to be. His mantra has become: "Save the Family, Save the World."
How to Connect with Joe?
Website: https://www.forwardwithjoe.com/
LinkedIn: https://www.linkedin.com/in/thejoepomeroy/
Instagram: https://www.instagram.com/thejoepomeroy/
Facebook: https://www.facebook.com/thejoepomeroy
---------------------------------------------------
Connect with Dr. Vic...
Website: www.EmpowerYourReality.com
Facebook: www.Facebook.com/drvicmanzo
Instagram: www.Instagram.com/drvicmanzo
LinkedIn: www.LinkedIn.com/in/drmanzo
Check out my books: https://amzn.to/3gzr9XT
Do You Want to learn how DOUBLE Your Profits while working LESS?
 https://prosperousmindexperience.gr8.com/
About Dr. Vic...
I'm Dr. Vic Manzo Jr., a Pediatric/Family Wellness Chiropractor, Holistic Practitioner, Transformational Mindset Coach, Influential Author, Inspirational Speaker, and the host and creator of The Mindful Experiment Podcast.
I teach entrepreneurs and chiropractors how to DOUBLE their profits while working LESS and spending more time with their LOVED ONES in 90 days.
Check out my socials and if interesting in a discovery call with me, visit www.TheProsperousMindExperience.com.