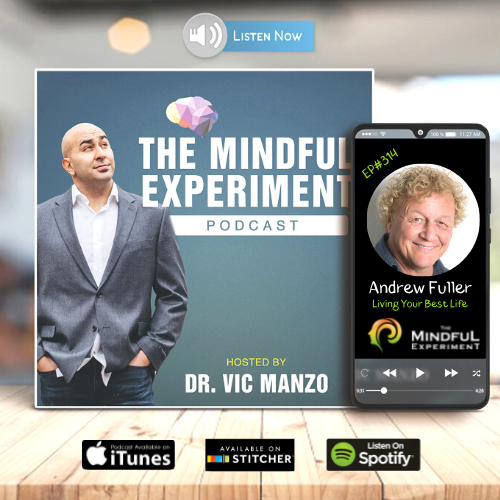 In this episode, I had the pleasure of interviewing one of the leading Australian psychologists, Andrew Fuller.
Andrew has decoded the rules and laws that change in each decade of our life to help us better equipped to handle what may be coming for us and what to expect.
He shared some wonderful wisdom and I even had the pleasure to learn a few things as he shared some of the wisdom from his work and his book and how it reflects into my life. 
Tune in, make sure you have a pen and paper and enjoy the show!
Who is Andrew Fuller?
A leading Australian psychologist, Andrew has interviewed more 500,000 people to trace the most commonly identifiable stages of life. He discovered that understanding what stage one is in will lead them to making changes that can improve relationships, create better health and develop a more resilient mindset. He believes that knowing the characteristics of your stage of life is vital, as the things that make a difference in your 20s, change in your 30s, and then alter again in your 50s become completely different in your 60s and 70s.
Andrew has been described as an "interesting mixture of Billy Connolly, Tim Winton and Frasier Crane" and as someone who "puts the heart back into psychology". As a clinical psychologist, Andrew Fuller works with many schools and communities in Australia and internationally, specializing in the wellbeing of young people and their families. He is a Fellow of the Department of Psychiatry and the Department of Learning and Educational Development at the University of Melbourne.
How to Connect with Andrew?
Website: https://andrewfuller.com.au/
LinkedIn: https://www.linkedin.com/in/andrew-fuller-2238a325/
Book: https://amzn.to/3i5aH35
-------------------------------------------------
Connect with Dr. Vic...
Website: www.EmpowerYourReality.com
Facebook: www.Facebook.com/drvicmanzo
Instagram: www.Instagram.com/drvicmanzo
LinkedIn: www.LinkedIn.com/in/drmanzo
Check out my books: https://amzn.to/3gzr9XT
Do You Want to DOUBLE Your Profits?
 https://prosperousmindexperience.gr8.com/
About Dr. Vic...
I'm Dr. Vic Manzo Jr., a Pediatric/Family Wellness Chiropractor, Holistic Practitioner, Transformational Mindset Coach, Influential Author, Inspirational Speaker, and the host and creator of The Mindful Experiment Podcast.
I teach entrepreneurs how to DOUBLE their profits while working less in 90 days!
Check out my socials and if interesting in a discovery call with me, visit www.TheProsperousMindExperience.com.