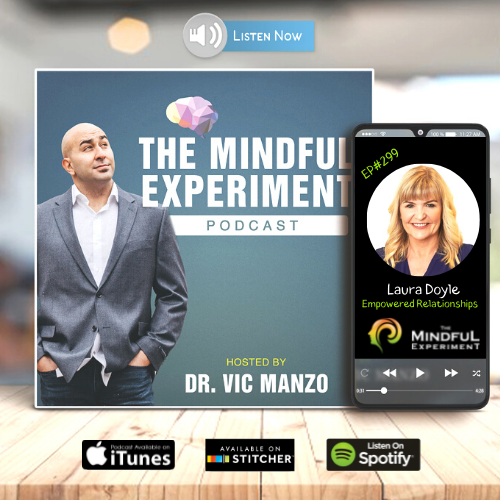 In this episode, I had the pleasure of interviewing Laura Doyle who is a relationship expert, bestseller, author, and podcaster.
We discussed her story, how it played a role in her relationship but more importantly, through her journey, how she became the Empowered Wife.
Laura shares some wonderful relationship nuggets that can help all of us level up our relationships and realize what we can do in order to have a more empowered relationship...
Tune in and enjoy the show!
Who is Laura Doyle?
New York Times Bestselling Author Laura Doyle was the perfect wife...until she actually got married. When she told her husband how to be tidier, more romantic, and more ambitious, he avoided her. So she dragged him to marriage counseling and nearly divorced him. In desperation, she asked happily married women for their secrets, and that's when she got her miracle: the man who had wooed her returned. Laura's books have been translated into 19 languages in 30 countries and accidentally started a worldwide movement.
Laura's mission is to end world divorce. She is the founder of the international relationship coach training school Laura Doyle Connect, the star of Empowered Wives on Amazon Prime, the Creator of The Ridiculously Happy Wife program, the host of The Empowered Wife Podcast and she has appeared on The Today Show, Good Morning America and The View. She has helped over 15,000 women fix their relationships--even the hopeless ones— without their husband's effort.
But the thing that Laura is most proud of is her gratifying 31-year marriage with her hilarious husband John, who has been dressing himself since before she was born.
How to Connect with Laura?
Website: https://lauradoyle.org/
LinkedIn: https://www.linkedin.com/in/lauramdoyle/
Facebook: https://www.facebook.com/lauradoyle.org
Twitter: https://twitter.com/lauramdoyle
Podcast: https://lauradoyle.org/podcasts/
Book: https://lauradoyle.org/the-empowered-wife/
--------------------------------------------------------------
Connect with Dr. Vic...
Website: www.EmpowerYourReality.com
Facebook: www.Facebook.com/drvicmanzo
Instagram: www.Instagram.com/drvicmanzo
LinkedIn: www.LinkedIn.com/in/drmanzo
Check out my books: https://amzn.to/3gzr9XT
Chat with Dr. Vic on Coaching: https://www.empoweryourreality.com/coaching
About Dr. Vic...
I'm Dr. Vic Manzo Jr., a Pediatric/Family Wellness Chiropractor, Holistic Practitioner, Transformational Mindset Coach, Influential Author, Inspirational Speaker, and the host and creator of The Mindful Experiment Podcast.
I help coach, mentor, and consult entrepreneurs and chiropractors to live their best version of themselves.  We know life is limited so how can we gain the most experiences out of life. 
I help with focusing on one's mindset and how the mind has been programmed over time to break the chains that have been created and allow for you to experience the freedom that you desire.  It truly is all about Empowering Your Reality.  I do this through one-on-one coaching and online classes.
Check out my socials and if interesting in coaching or one of my online classes, send me a DM or email me at DrVic@EmpowerYourReality.com.