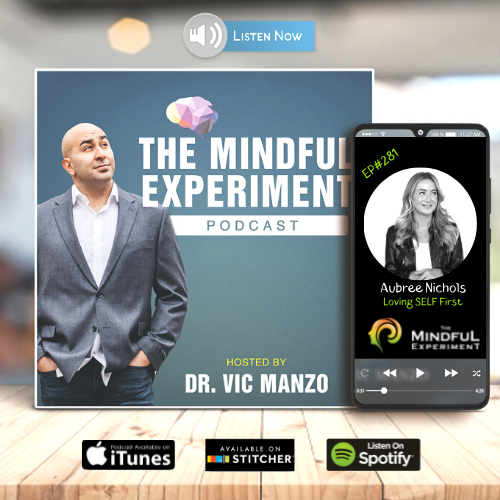 In this episode, I had the pleasure to interview Aubree Nichols who is someone who has Self-Love nailed down.
In this interview, we talk about writers block, how to create self-love, what does that look like and how do we illuminate the darkness in one's life to experience more light.
This episode is for anyone looking to level up in life and learn how to express more of your true soul nature: LOVE.
Tune in and let us know what you think...
Who is Aubree Nichols?
My intention is to illuminate the darkness so that others may live in the light - in everything I do.
For my agency and brand clients, I unearth insights and develop creative and impactful ideas.
In my writing and speaking, I dig deep into my heart and life experiences to say what others won't. Some say I have a black belt in truth-telling. I'd like to think I keep it real. 
I'm a proud Texan but for 16 years, found comfort in the grit of New York City. I recently switched coasts for the sunshine, waves, and acai bowls of Ocean Beach, California. My instagram @aubree.nichols and writing for The Week, Elite Daily and Observer, has helped me become a resonant voice in the self-love movement, which I believe is the ultimate love story. I am working on my first memoir, Enough, that will inspire women to reclaim their power and cultivate a loving relationship with themselves. Spreading the message of self love is my mission. 
I've been called a dot connector, inspirer and champion of creativity. After 10 years in NYC ad agencies and earning a Masters Degree in Organizational Change, I focus on nurturing creative culture and process.
My proprietary workshop, Stoked! helps teams get unstuck and ignites breakthrough thinking. As a brand strategist, my approach is founded in the belief that creativity and effectiveness can co-exist. I earned an Effie for my work on the SAAB "Born From Jets" campaign that increased sales 37% within 1 year. As a researcher, I uncover insights by asking good questions, listening for the unspoken and talking to respondents as dear friends. 
Whether I'm conducting focus groups, creating a keynote deck, or pouring out my soul on the page, I love what I do. I feel best when I'm creating and am blessed with each new opportunity and challenge.
How to Connect with Aubree?
Website: https://www.aubreenichols.com/
Instagram: https://www.instagram.com/aubree.nichols/
Facebook: https://www.facebook.com/aubreenichols33
----------------------------------------------------------------
Athletic Green's Special Offer to The Mindful Experiment Listeners
To take advantage of the special offer they are having at Athletic Greens, click on the link below to get one year's worth of Vitamin D with your first order:
www.AthleticGreens.com/mindful
----------------------------------------------------------------
Get Connected with Dr. Vic
Facebook: www.facebook.com/DrVicManzo
Instagram: www.Instagram.com/DrVicManzo
LinkedIn: www.LinkedIn.com/in/DrManzo
Discord: https://discord.gg/7fgACzdNAd
YouTube: Bit.Ly/38QULv91
One Free Week of Mindfulness with Dr. Vic
https://bit.ly/3sGRvfg 
Want to Master Life?
https://empower-your-reality.mykajabi.com/life-mastery
Download the first 3 Chapters to Dr. Vic's New Book for FREE
https://empower-your-reality.mykajabi.com/3-chapters-lead-generation-awitd
Looking for Coaching?
https://www.empoweryourreality.com/one-on-one-coaching
Email