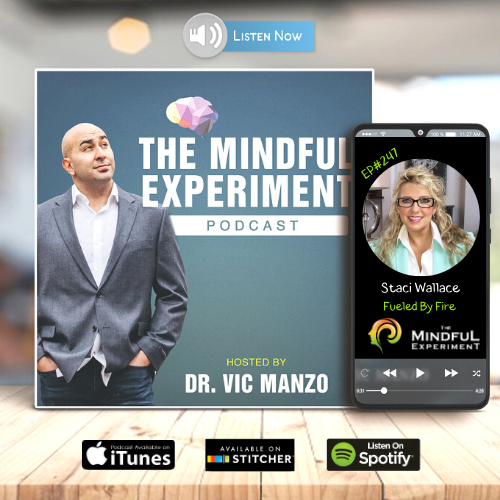 In this episode, I had the pleasure of interviewing Staci Wallace.  You will be able to tell right off the bat that this woman is truly FUELED BY FIRE as this is also the title of her new book!
We discussed many things that relate to life but the biggest take away from me is, regardless of what someone has on the outside (success), you never know the inner battles that we all face and Staci will share her story on how she reinvented herself into the woman who truly is Fueled by Fire!
Check out the video podcast of the episode by clicking on the link below
https://www.youtube.com/watch?v=3uOoiuapRTI
Tune in and let us know what you think!
Who is Staci Wallace?
Staci Wallace is a serial entrepreneur and leading expert in the field of business psychology and life mastery. Her specific focus is in helping CEO's, influencers, and entrepreneurs make essential life and business hacks that lead to greater profits and ultimately building a life and business they love.
For over thirty years, Staci has been shifting the mindsets of great leaders and teams as an engaging speaker, thought leader, business executive, and author of eight books, including Fueled by Fire. Staci has shared the stage with five U.S. Presidents, helped build businesses into the hundreds of millions in revenue, and has grown and led sales teams into the hundreds of thousands. She is currently the host of The Comeback Small Business Radio Show, founder of the non-profit, EMwomen (Empowering Women), and EVP of Strategy for VOXOS, a 15 year-old telecom company bringing new-school marketing platforms to small business owners throughout the world. She is co-founder of EMpowerYOU Publishing and continues to help CEO's and innovators bring
their bigger stories to life.
As a corporate executive, her unique business acumen and mastery strategy skills, give her a confident understanding of the physical, psychological and emotional dynamics leaders must master in scaling great companies today. She has dedicated her life to teaching leaders micro-distinctions and creative life hacks to live a balanced and deeply rewarding life while driving highly effective outcomes in the marketplace.
After a monumental life shift in 2017, where Staci and her husband chose to walk away from their executive careers for 2.5 years of servitude to the poor, they recognized that the massive gap between peace and profits could be bridged with a few micro-distinctions missed by most executives who are brilliant at company vision and often broken in the more meaningful things of life.
On a personal note: Those same life-hacks are what have fueled Staci's marriage of 23 years and helped empower her two purposed-driven children.
Staci's background as an avid basketball player and blackbelt in mixed martial arts, no doubt, have aided in her tenacious spirit to help leaders win in life. As a former recording artist with 5 CDs, Staci was the featured soloist for the Opening and Closing Ceremonies of the Olympics. Her life is living proof that we are all well-capable of breaking through natural barriers and defying the odds of self-defeating rhetoric. If you can't find Staci on stage, in a consulting role, or on-air, chances are, she's on a creek fishing for trout in the mountains, somewhere around the world.
How to Connect with Staci?
Website: www.StaciWallace.com
LinkedIn: https://www.linkedin.com/in/staciwallace/
Twitter: https://twitter.com/staciwallace
YouTube: https://www.youtube.com/user/EmpoweredLivingTV
Instagram: https://www.instagram.com/staciwallace/
Facebook: https://www.facebook.com/staciwallaceofficial
---------------------------------------------------------
Get Connected with Dr. Vic
Facebook: www.facebook.com/DrVicManzo
Instagram: www.Instagram.com/DrVicManzo
LinkedIn: www.LinkedIn.com/in/DrManzo
Parler: www.parler.com/profile/DrVicManzo
YouTube: Bit.Ly/38QULv91
Free Virtual Workshop on Life Mastery
https://empower-your-reality.mykajabi.com/pl/229795
Download the first 3 Chapters to Dr. Vic's New Book for FREE
https://empower-your-reality.mykajabi.com/3-chapters-lead-generation-awitd
Looking for Coaching?
https://www.empoweryourreality.com/one-on-one-coaching
Email
DrVic@EmpowerYourReality.com